CADopia 17 adds extensive new functionality to make CADopia a more versatile CAD software for creating, editing and viewing professional drawings in a production environment.

The new functionality introduced in CADopia 17 range from productivity and efficiency features such as multi-functional grips, pattern along a path, automatic creation of center lines to ease of use tools such as Power Trim and dynamic print preview.


Advanced PDF to DWG conversion
Advanced functionality allows you to derive more information from the PDF drawings
CADopia 2017 now offers you the option to recover the layer information and names when converting a PDF drawing into a .DWG format vector drawing. It also allows you to maintain the LineStyle and LineWeight of converted entities.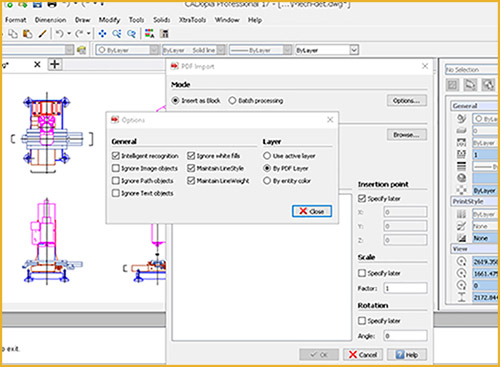 Pattern Along Any Path
Create an array of entities along a specified path
Create multiple copies of a selected entity along a path defined by another entity. The previous functionality limited this path to lines, arcs or circles only, now it has been extended to include line, arc, circle, ellipse, polyine or spline. The entities created can be perpendicular to the path or can be drawn at a specified angle.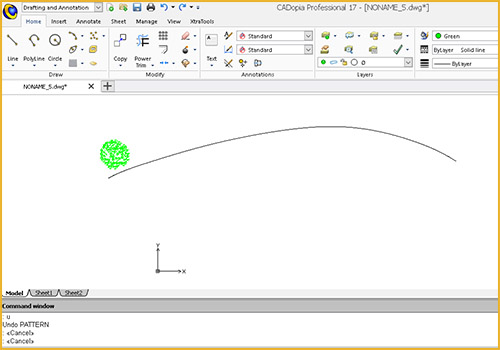 Array Dialog Box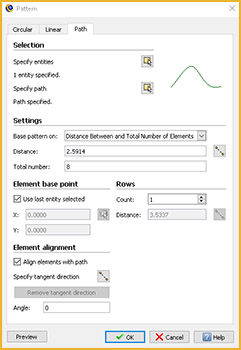 Multifunctional Grips
Now the popular grip editing feature gives you more editing options.
Hover over entity grip points and you will see new shortcut menus offering editing features that are context sensitive. Now, you can insert a vertex in a polyline or spline, convert an arc into a polyline change the radius of an arc and more. This is in addition to the existing functionality of the grip points in CADopia 16 and earlier versions.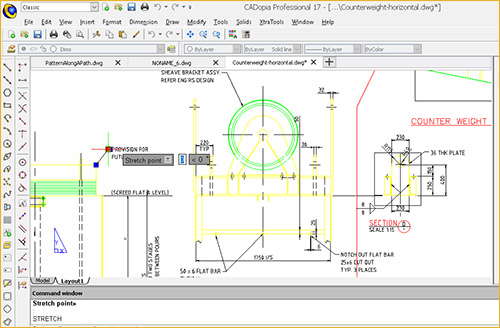 Center Lines
Insert Centerlines between pairs of lines, concentric arc and polyline segments
This popular feature is now supported in CADopia 17. The CENTERLINE command enables you to automatically draw a line at equidistance of the pair of entities you selected. The CENTER linestyle is be assigned by default to the Center line created. This command also applies to sets of circles and polylines for which you need to create the center line.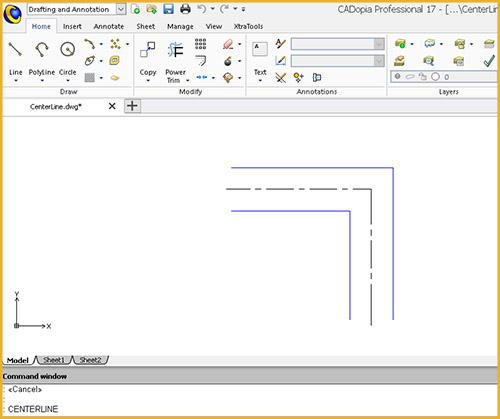 Trim and PowerTrim in Hatches and Gradients
Now, the power of the PowerTrim feature is available for hatches and gradients
POWERTRIM is a productivity feature that was first introduced in CADopia 16 to trim or extend entities quickly and easily. Now the same functionality has been extended for editing hatches and gradients. Of course, the edited hatches and gradients maintain associativity.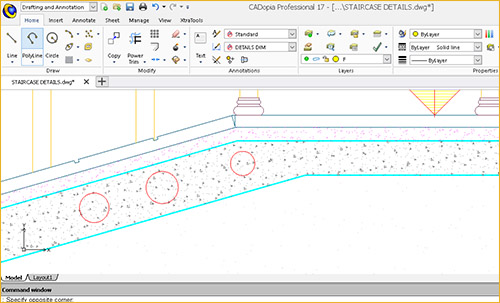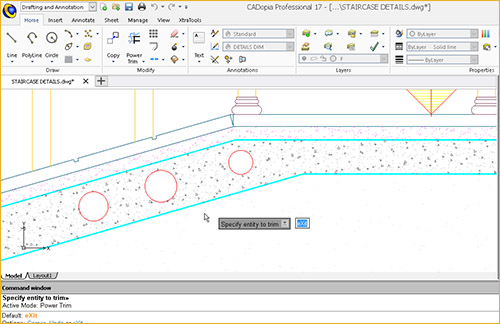 Polylines Editing Improvements
Some of the past limitations of polyline editing have now been addressed. Now, you can add additional vertices, convert a segment from line to an arc and vice-versa.
New options in the command EDITPOLYLINE ensures increased productivity in the editing of polylines. You may convert an arc segment into a line and vice-versa, you may also add a vertex to the midpoint of a segment and change its position. Other new options include Taper and Reverse.



Relative Angles in Coordinate Input
Use the popular "@" prefix to enter the angle or coordinates relative to the last segment or point.
This feature simplifies the coordinate input process when you draw sketches.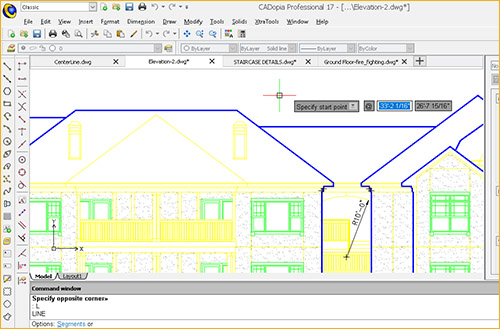 Split Dimension Lines
Create cleaner drawings by splitting dimension lines and extension lines when they overlap.
Improve the readability of your drawings, when dimension lines or extension lines overlap each other. You can split the dimension lines by specifying a distance without breaking the associativity. You can also set a default values for repeated uses.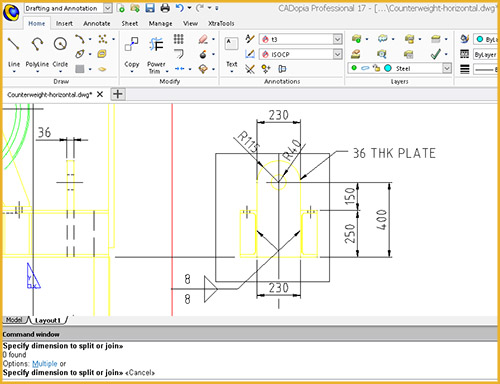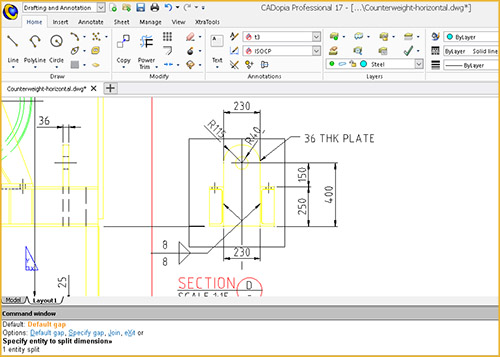 Advanced Block Attributes Editing
More options for advanced editing of block attributes and properties
Now you can edit properties such as layer, linestyle, color, text style for attributes stored in a block.


Dynamic Print Preview
The Print settings dialog has been redesigned to improve productivity.
You can preview the drawing dynamically before printing to see exactly how it will print. As you make changes to the settings, the preview will get updated, showing you the results of the latest changes in print settings.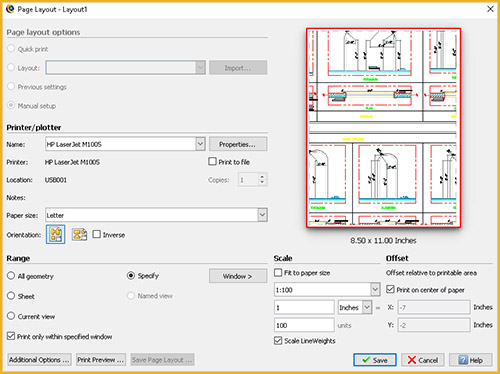 More XtraTools™ Commands
More power features to help you solve tedious tasks.
XtraTools, first introduced in CADopia 16 has been further enhanced in CADopia 17 with the addition of new set of powerful utilities. The utilities range from managing layout viewports, importing/exporting dimension styles, creating text labels to scaling blocks, defining draw order by color and more.




SetByLayer
Change property overrides of selected entities to ByLayer
The new SETBYLAYER command helps you to enforce that selected entities inherit layer properties and you can decide which properties such as color, linetype, or lineweight are applied by layer to these entities.

ChangeSpace
Move entities from Model Space to Layouts and vice-versa.
The new CHANGESPACE command enables you to move content between Model and Paper Spaces. Besides moving the entities, this command takes care of inserting the entities at the same location and at the right scale maintaining the scale ratio of the viewport in the layout.